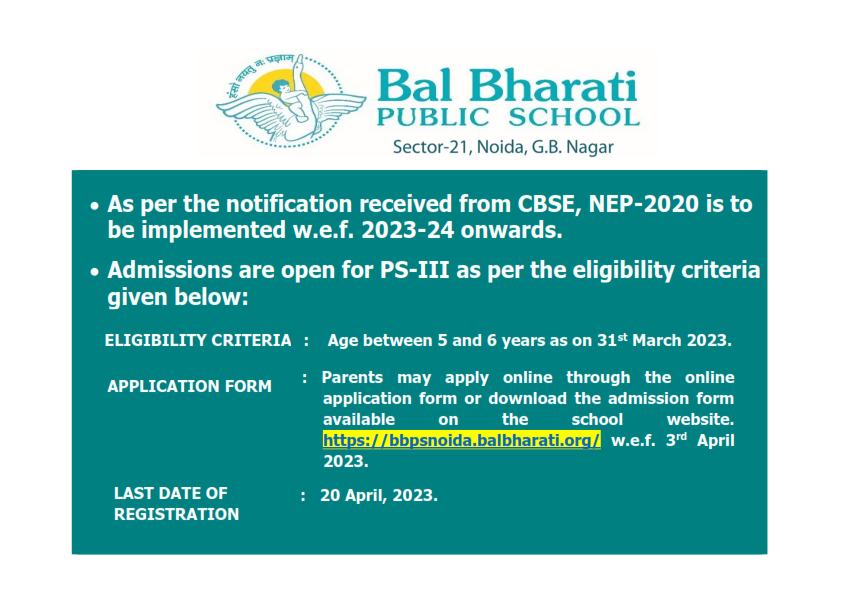 Orientation for Class I (2023-24)
PRE SCHOOL (2023-24) ORIENTATION AND IMPORTANT GUIDELINES  
ANNEXURE-1 LIST OF STUDENTS PRE SCHOOL 2023-24 
LIST -6 OF SELECTED CANDIDATES : Click Here to View Details 
LIST -5 OF SELECTED CANDIDATES : Click Here to View Details 
LIST -4 OF SELECTED CANDIDATES : Click Here to View Details 
LIST -3 OF SELECTED CANDIDATES : Click Here to View Details 
LIST -2 OF SELECTED CANDIDATES : Click Here to View Details
LIST OF SHORTLISTED CANDIDATES FOR INTERACTION DATED 12 Sept 2022 (Monday)
LIST OF SHORTLISTED CANDIDATES FOR INTERACTION DATED 06 Sept 2022 (Saturday)
List 2 of Selected Candidates: 19 Aug 22 is a school holiday on account of Janamashtami, the date of completion of Admission Formalities is extended till 20 Aug 22 (Saturday).
 LIST OF SHORTLISTED CANDIDATES FOR INTERACTION DATED 20 AUG 2022 (Saturday)
LIST OF SHORTLISTED CANDIDATES FOR INTERACTION DATED 06 AUG 2022 (Saturday)
LIST -1 OF SELECTED CANDIDATES : Click Here to View Details 
1 LIST OF SHORTLISTED CANDIDATES FOR INTERACTION DATED 30 JULY  2022 (Saturday)
ADMISSION TO PRE-SCHOOL (NURSERY) (2023-24) -ONLINE ADMISSION FORM
PARENTS MAY FILL THE ONLINE APPLICATION FORM OR DOWNLOAD THE APPLICATION FORM  W.E.F. 18 JULY 2022.
PRE SCHOOL (NURSERY) ADMISSION NOTICE (2023-24)
The age of the child as on 31st March,2023 should be between 3 Years  and 4 Years (i.e the child should be born between 1st April 2019 and 31st March 2020.
There are two levels or grades in Pre Primary education:
Pre School : This is the entry level to the formal system of school education. It is equivalent to Nursery or Lower KG. Children in the age group of 3 to 4 years are eligible to take admission in this grade.
Pre Primary : The students graduate to Pre Primary level after completing Pre School. It is equivalent to KG. Children in the age group of 4 to 5 years are eligible for this grade.
There are approximately 30-35 students in each section. All Class/Sections are facilitated by a home room teacher and the school has arrangement for Teacher Assistants in each class to assist the home room teachers in carrying out the activities as per the prescribed curriculum.
We understand that admitting your child at Pre-school in trusted hands is important for you as parents.
All measures have been taken by the school authorities to ensure the safety and security of Pre School students. The supervision of the campus is aided by the closed circuit TV's in all Pre Primary classrooms and adjoining corridors. The entry of visitors is restricted and monitored. The School follows a highly organised dispersal plan for safe and secure departure of students. The children are looked after by a committed team of sahayikas and lady guards deputed at each floor. The School Security works 24 X 7. The school also ensures profile verification of our staff by the police, GPS in school buses, and child-friendly furniture. Our Pre-Schools are clean and hygienic and have regular fumigation, pest control, well-sanitized toilets, and an overall warm, appealing and nurturing environment for your loved ones.
The fee structure of the academic session 2022-23 is uploaded on the School Website. You may peruse the website on a regular basis for important updates regarding the school fee and transport fee. For those parents who are desirous of paying Fee in an Online mode, you may log on to the Parent Portal once the admission is granted by the school..
There is no checklist of prerequisite skills required in children for admission to Pre School. The school firmly believes that each child is unique and develops at his/ her own pace, if given a nurturing, encouraging and learning school environment.
The primary language for instructions and interaction at BBPS, Noida is English. However, Hindi enjoys its place of pride as the National language in the school curriculum. In sync with NEP 2020, the School lays due importance to the child's mother tongue/regional language at the Foundational level.
The formative years at Bal Bharati Public School, Noida are spent in an environment conducive to the spirit of inquisitiveness. The curriculum in Pre School and Pre Primary is focussed on developing foundational Literacy and Numeracy skills by adopting creative and innovative teaching pedagogies. Multifarious activities are held throughout the year that stimulate children's ideas, increase their awareness of shape and space, develop their power of communication, critical thinking and creativity.
We, at BBPS Noida, follow a prescribed school uniform specified for different days of the week. To get more details about the school uniform, you may log on to the School website..
REOPENING OF SCHOOL FOR PRE PRIMARY STUDENTS - STANDARD OPERATING PROCEDURES (SOP) & GUIDELINES VIEW DETAILS
WELCOME BACK TO SCHOOL (REOPENING OF SCHOOL POST COVID 19)  CLICK LINK
ABOUT THE PRE PRIMARY SYSTEM
The formative years at Bal Bharati Public School, Noida are spent in an environment conducive to the spirit of inquisitiveness as propagated by eminent educationists, where the activities, curriculum and pedagogy are child-friendly.
The early years are the most crucial years of a child's growth and the school aims to facilitate optimum development of each child with the team of teachers giving their unconditional love. Positive interactions between teachers and parents are vital to a child's development and education.
Parents are apprised about the infrastructure and facilities provided by the school. Orientation Programme and a variety of other programmes like interactive parent teacher meeting, parent advocacy workshops are held from time to time to address specific aspects/concerns related to the Pre Primary children like health and hygiene, toilet training, behavioral problems, sibling adjustments etc.
Pre Primary department is fully equipped with audiovisual aids, activity room, swimming pool, smart classrooms and attractive play pen which facilitates the overall development of the child.
Various developmental activities in the school curriculum where the learner gets the opportunity to identify his/ her talent and skills, special assemblies to mark the celebration of important national and religious festivals which make the learning experience, an exciting and fun filled one.
The role of educators along with the active cooperation of the parents is to keep evolving and growing with the attitude to nurture happy and lifelong learners.
SCHOOL TRANSPORT 
PRE PRIMARY BUS ROUTES 2022-23 VIEW DOWNLOAD
------------------------------------------------------------------------------------------------------------------------------------------------
DETAILS OF SUBMISSION OF PHOTOGRAPHS FOR GENERATION OF STUDENT AND PARENT ID CARD
Kindly forward a soft copy of 01 passport size photographs (Specifications – size 2 inch x 2.5 inch, plain white background) of the Child, Mother and Father as the same is required for the generation of the Student and Parent ID cards on the e-mail id,  bbps.admission@nd.balbharati.org
The format for submission of photographs is as under:
Student : Studenid.jpg only jpg or png (photograph of the child)   For Example 108644.png or 108644.jpg
Father : Studenid_Father.jpg  only jpg or png (photograph of the father) 108644_Father.png or 108644_Father.jpg
Mother : Studenid_Mother.jpg only jpg or png  (photograph of the mother)  108644_Mother.png or 108644_Mother.jpg
SAFETY AND SECURITY OF STUDENTS TRAVELLING BY PRIVATE VANS
The safety and security of the students is of paramount importance to us, at BBPS, Noida. The school makes all necessary efforts and arrangements to ensure that the children remain safe and protected at all times.
Keeping this in mind, we are sharing a video showcasing the guidelines to be followed by all Private Van Operators ferrying students to and from school.
It is a sincere appeal to the parents to ensure that the safety guidelines are followed by the Private Van operators and drivers.
Let's join hands to educate and empower our young minds to stay safe and secure at all times!