The formative years at Bal Bharati Public School, Noida are spent in the environment conducive to the spirit of inquisitiveness. The curriculum in Pre School is focused on school readiness to foster their skills in pre-reading, language and number work to provide a secure base for literacy and numeracy. Multifarious activities are held throughout the year that stimulate children's ideas, increase their awareness of shape and space, develop their power of communication and inculcate collaboration through team work. The school firmly believes in providing experiential learning through hands-on activities and projects, all round the year, to enable our tiny tots to pursue their own interest while gaining skills to navigate through real life situations.
There are two levels or grades in Pre Primary education:
Pre School : This is the entry level to the formal system of school education. It is equivalent to Nursery or Lower KG. Children in the age group of 3 to 4 years are eligible to take admission in this grade.
Pre Primary : The students graduate to Pre Primary level after completing Pre School. It is equivalent to KG. Children in the age group of 4 to 5 years are eligible for this grade.
There are approximately 30-35 students in each section. All Class/Sections are facilitated by a home room teacher and the school has arrangement for Teacher Assistants in each class to assist the home room teachers in carrying out the activities as per the prescribed curriculum.

ADAPTING TO THE NEW AGE DEMANDS- ONLINE CLASSES
Reaching out to make a difference has always paid us rich dividends, be it at school or in an e-classroom. 1st April 2020 flagged off a new session with a difference. It was time to embrace all possible challenges as the teachers set about building an extraordinary connect with the Pre Schoolers taking the help of well-developed learning modules, hands-on learning activities and self-created video and audio clips to engage the kids constructively. Active online sessions through Google Hang Out Meet were held for the little ones where teachers brought about highly innovative and creative ways to deliver concepts, values, vocabulary and multifarious skills using self-created puppets, toys, games, puzzles, activity sheets and making use of objects readily available at home. Recitation and story sessions brought life into the online sessions which became clearly evident from a pool of videos and pictures of students, shared by the parents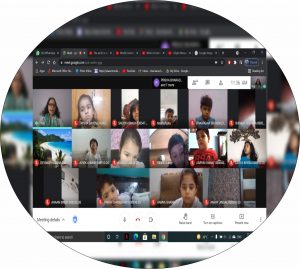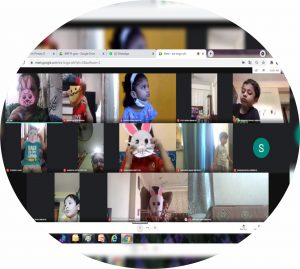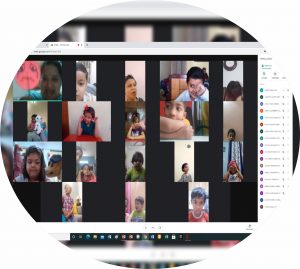 "In Play Children Learn How to Learn"
At Bal Bharati Public School, Noida, an indispensable part of early learning is PLAY. It is the élan vital of the learning process at the foundation stage.
Cognitive, socio-emotional and physical skills are developed in Pre Schoolers through play.
Play caters to a multidisciplinary approach which helps in mounting curiosity, problem solving, intentionality, flexibility, verbal and non-verbal skills amongst children.
As a part of socio emotional development, play also teaches toddlers to develop their emotional intelligence – learning, confidence, cooperation, negotiation, sharing, empathy and communication.
To a large extent play also helps in developing their fine motor and gross motor skills as a part of their physical development.
All in all, it's skills for life and not "Just Play"